Straight Arrow Products, Inc.
With humble beginnings on a rural family farm in New Jersey, Straight Arrow Products, Inc was founded in 1970 when Philip and Bonnie Katzev created the Original Mane 'n Tail Conditioner as a solution for their own horses for fuller, thicker, healthier manes and tails, that counteracted the harsh cleaning products on the market at that time. They identified a niche in the market and promptly went with it. That's exactly how it all started…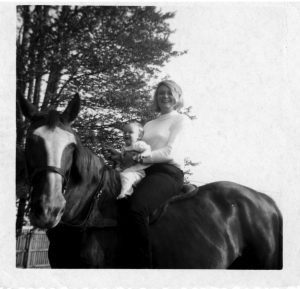 As the equestrian set started to take notice of these result-driven micro-enriched protein formulas for their horses, they subsequently learned that not only was this duo a brilliant choice for their beloved horses, but also for themselves. Why not? A beautiful, healthy, shiny coat, mane and tail were true benefits of this equine hair care system…it was safe for horses and humans alike. Soon, those 'in-the-know' were experiencing the 'unbridled' results, longer, stronger, fuller, healthier hair of their own. A whole new set of Mane 'n Tail enthusiasts were being converted…driving the success of the brand and even passing along a rumor… "hair seemed to be growing faster" for those who used the shampoo and conditioner.
Other products followed quickly, a miracle moisturizing, healing treatment product for dry, cracked, brittle hooves named Hoofmaker® that worked wonders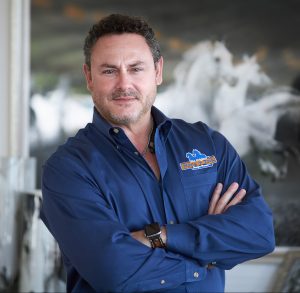 for horses hooves…once again the horse set, being savvy consumers, noticed their hands and nails were improving as they applied Hoofmaker to their horses hooves and yet another success story was born. Then Phillip Katzev invented a cool blue, topical pain formula for horses, Mineral Ice, that was created to help some of the greatest race and competitive horses with pain and inflammation. To this day some folks use it to relieve their own aches and pains. Soon production on the farm and facility that was purchased for the overflow was outgrown.
A move to corporate/plant headquarters across the Delaware River to Bethlehem, PA and a whole line of products continued to be introduced over the years for both horse and human sides of the business. During the 1980's and 90's Straight Arrow Products, Inc…saw many "15 minutes" of fame, with tons of media exposure, from magazine articles in National publications, product placements in major motion pictures such as "The Truth About Cats and Dogs" and "Blades of Glory" to name a few. Also there were appearances on the "Today Show", mentions on "The Price Is Right", etc…as well as receiving the "Kiss of Approval Award in CosmoGirl magazine from Jennifer Aniston and touts from other celebrities! Mane 'n Tail's name was buzzing! All that being said…it never went to Straight Arrow's head.
Straight Arrow has still held onto its grassroots attitude, holding in high regard the same quality control, integrity and family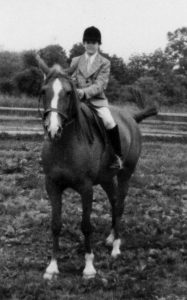 spirit of its origins, the business evolved into what it is today. Perhaps now a household name, Mane 'n Tail still is owned and operated by the second generation of the family and stays true to its roots. President/Owner Devon B. Katzev has the passion and vision to take stay on the cutting-edge of technology by having the distinct talent for growing the company and expanding its horizons without losing its down-home philosophy, keeping Straight Arrow on the straight and narrow!
Straight Arrow Products, Inc., for forty-five years has been providing exclusive hair and skin care products renowned for our quality and performance in both the Equestrian and Personal Care markets. We've honed our roots by initially producing under the brand names Mane 'n Tail®, Hoofmaker®, and Mineral Ice®. Naturally expanding to accommodate people, as the equestrian audience discovered a valuable 'secret', that the products they were using on their horses, created remarkable results when used on them, as well. Straight Arrow continues to manufacture all of its own products right here in the USA, adhering to strict quality assurances, guidelines and consistently meeting a high performance standard. Recently, for our Equestrian business, we acquired another family owned brand, Cowboy Magic, another high quality performance grooming line that is the newest member of the Straight Arrow family of products. Our credo is to "Satisfy the Customer" which has been our company's tradition from day one. Straight Arrow presently sells its products in over 175,000+ locations throughout North America and internationally.  Straight Arrow Products, Inc. 2020 Highland Ave. Bethlehem, PA 18020  phone: 610-882-9606  www.straightarrowinc.com